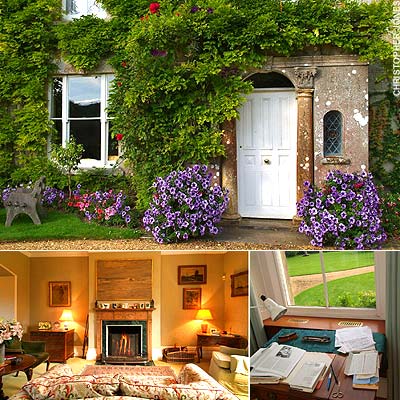 Bream, a child prodigy whose guitar career was officially launched when he was just 13, visited the Duke of Wellington's Stratfield Saye among others – and was determined to recreate some of their elegance and grandeur at Broad Oak. "It wasn't in a bad state, but people from the Armed Forces don't necessarily know how to make a home; they move about so much," he says.

He redecorated every room and rebuilt the two-bedroom annexe. In the drawing room he added an elegantly moulded wood and marble fireplace, and a large bay window: "It was a mean little fireplace before and the room was smaller, with no view of the garden."

Broad Oak's garden soon began to determine Bream's concert and recording schedule. "I worked abroad from October to March but would take summers off. The vegetable garden is so wonderful that it was depressing not to be here." His sound engineer and producer would come down to Broad Oak for several weeks and they would make recordings at an 18th-century chapel two miles away. Bream had already won many international awards by this stage and in 1979 RCA presented him with a platinum disc to mark record sales of half a million in Britain alone.

When he first arrived at Broad Oak, there were mature trees and a formal box parterre but the rest of the garden was given over to vegetables. "I suppose the maid, cook, and gardener would all have been fed from it," he says. With no maid or cook to worry about, he grassed over the vegetable beds, and added stone walls, climbers, a rose garden and numerous specimen trees (weeping pear, tulip, silver birch). He pulled down an unsightly concrete farmyard and replaced it with a smaller, walled, vegetable garden. "I've spent time here knocking things down, not putting up new buildings," he says.

Except a stone summer house with wonderful acoustics – perfect for practising guitar surrounded by roses and sweeping lawns. "I developed my career from here. I've spent such a long time at Broad Oak that it has become part of me – I love it all the time."

Few country houses are as intact as Broad Oak: the house, annexe, stables (with traditional partitions), tack room and potting shed are all under one roof, surrounded by an old cobbled path. Built of local green sandstone, it dates from the late 18th and late 19th century, and brings together stoic Georgian proportions with Victorian romantic features such as the small stained glass windows in the porch.

Gradually, Bream has bought back the parkland, woods and farmland that once belonged to the estate (around 30 acres). "It would have been a proper gentleman's farmhouse with just enough land for a few cows and horses and a rough shoot," he says.

The house has two wings: the former dairy (Bream's studio/sitting room) is in the eastern wing – the oldest part of the house – with low ceilings and oak beams, while the drawing room and dining room have shuttered sash windows with window seats and high ceilings with ornate cornicing. Bream has added bathrooms to the upstairs bedrooms, most of which have attractive Victorian fireplaces. The improvement scheme, which began in 1966 when he first moved to Broad Oak, was finally completed less than 10 years ago. "In the end you realise you do a house up for someone else," he says, a little sadly.
[Read the entire article here.]