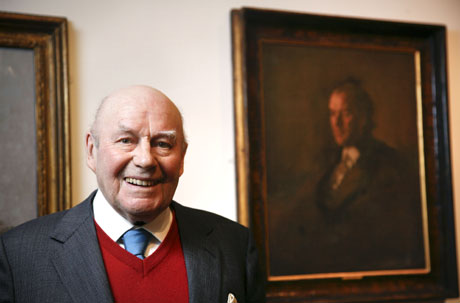 From the Royal Welsh College of Music & Drama:
Julian Bream, the world revered classical guitarist, has donated his personal art collection to the Royal Welsh College of Music and Drama. This extraordinary glimpse into the private thoughts and life of such a celebrated musician can be viewed at the Weston Gallery at RWCMD.
The collection comprises works personal to the musician such as a portrait of Bream by Derek Hill and one of his favourite dog, Casper by Jill Tweed. A number of paintings are by some of the most prolific Scottish artists of the 19th and 20th Centuries such as William McTaggart and David Gauld. Other featured artists include Sydney Nolan, Walter Richard Sickert, Elizabeth Frink and Bream's own brother, Anthony Bream. The paintings are predominantly landscapes from the beginning of the impressionistic period, and portray a serenity typical of this style.
The Exhibition Launch on 6th March 2009 was well attended by friends and supporters. Hilary Boulding, Principal of RWCMD, welcomed the guests, "It has completely transformed one of our many recital rooms… It is wonderful, an extraordinary and generous gift." Her words echoed everyone's thoughts, particularly those who had admired the great guitarist for years. "Julian Bream is perhaps the most celebrated guitarist alive. He is a living legend… It is a superb gesture. We are truly honoured." said John Mills, Head of Guitar Studies at RWCMD. Julian Bream seemed very happy and addressed the audience, "They do look pretty good if you don't mind me saying… They are good friends, these paintings. I'm glad they're here and I'm terribly moved."
You can read the rest here.